In my previous post I discussed brand building strategies at the point of sale for retail businesses. In this post I'd like to expand upon a few passing references to online strategies. There are many opportunities to provide a differentiated brand experience on the the web, but there may be trade-offs to evaluate and understand in order to make informed decisions. Keys areas for your consideration of website strategies include design, content, usability and information architecture. It's too much for a single post, so I'll split it up. Today's topic is a subcategory of design, brand imagery. Understanding how to represent your brand with imagery will impact design decisions. Effective use of imagery provides instant connection with the viewer, a quick understanding of the company's differentiation and is a powerful aid in recall. I'm going to back into the discussion of what works by pointing out what does not work. A very common web layout that you've all seen many times has a large hero banner at the top of the page. Having a large hero banner can be a good thing, or it can be a horrible waste of very valuable real estate. If the imagery does not serve a specific purpose by illustrating the brand, developing the brand personality or pointing to the brand's relevant differentiation it's a poor use of space. Pretty pictures are forgettable. Cliche images are even worse. A cliche speaks to the category rather than your specific brand. Stock photos, by their nature, tend to be generic or cliche in order to appeal to the largest possible number of buyers. This is especially true for royalty-free stock. Rights-managed may offer some options depending on your category and imagery needs. However, in many cases you'll find that the cost of the rights-managed license is close to the cost of shooting original photography. The fact that your stock image is being sold to other users virtually guarantees that the image cannot provide differentiation for your brand. It may be possible to use stock imagery and transform it in post production to better match your brand, but rarely will it be as powerful as imagery conceived specifically to illustrate your brand's personality or competitive advantages. Looking at some examples, we see Geico's consistent use of the Gecko character. Coupled with a rather unique multi-campaign strategy devised by the Martin Agency, not to mention heavy marketing spending with the deep pockets of parent company Berkshire Hathaway, Geico has achieved a gain in market share from around 2% pre-gecko to around 10% today.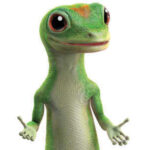 Geico's use of consistent brand imagery, the personification of a fun, quirky brand personality and the consistent messaging, 15 minutes can save you 15%, or more simply, Save Money have contributed to their noteworthy growth in a categtory that behaves more like a commodity
than a category offering real choices. Their competitor Progressive, on the other hand, uses a kind of goofy human character, Flo. You can watch the imagery war between the two competitors play out on TV daily. In another insurance category, Humana has clearly thought about their brand in devising their imagery strategy. On the one hand, Humana has used a consistent color pallette, and consistent points of view to create a cohesive visual voice. On the other hand, Humana has chosen to feature idealized users to illustrate the brand benefits of security, financial well being and health. The problem, from a brand perspective, is a lack of differentiation from competitors. Brand personality and brand identity are missing in an imagery strategy that is more effective speaking to category benefits than Humana benefits. This is a key point in determining effective use of imagery. Do not promote your category! Promote your relevant differentiation.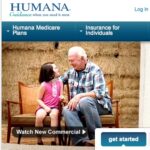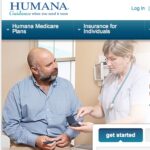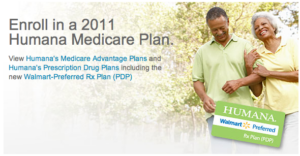 It's important to note that it's not lifestyle imagery that's intrinsically problematic. Coca-Cola, for instance has always had a firm grasp of their brand identity and how lifestyle fits in. Their Open Happiness campaign features imagery of various occasions, all of which have Coca-Cola as central to the happy occasion. Coke brings joy! The imagery is stylistically consistent. The point of view is designed to bring the viewer into the scene, rather than viewing as an outsider. Coke very clearly demonstrates how imagery can reflect and be an extension of their brand.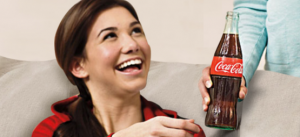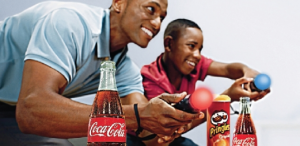 While family is, and has always been central to Coke's positioning, they effectively extend their campaign to include sponsorships and other events as illustrated by this NASCAR image:
The takeaway is that the imagery must align with the brand values and personality. It should differentiate the brand and be fully ownable by the brand. Lifestyle imagery is a more obvious choice for lifestyle brands. Outdoor gear and clothing retailers REI and Patagonia both use imagery effectively. While some use of stock imagery may be inevitable in this category for its cost efficiencies, its instructive to see how each uses custom imagery. REI was founded as a consumer cooperative in 1938. Before REI sells a product it must pass their employees's review. Their employees are outdoor enthusiasts and lifestyle advocates. A product's inclusion in the store is tantamount to an endorsement. The company has always featured membership as a strategy for creating connection and loyalty. This strategy of community and inclusion long pre-dates the social influence marketing trends. REI's use of imagery starring members and provided by members is a powerful differentiator and reinforces their customers and prospective customers' emotional connection to outdoor experience.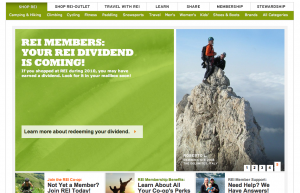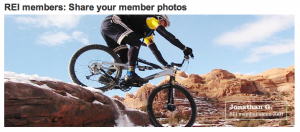 The caption on the left image reads "Roberto L. Member since 2008 The Dolomites, Italy." The caption on the image on the right says "Jonathan G. Member since 2000." REI also promotes the member community via member photo submissions. See the left image below.
Patagonia, a manufacturer and retailer, uses spectacular imagery to emphasize its category strength for fishermen and other sport specific clothing.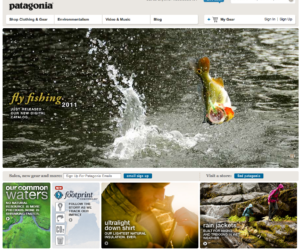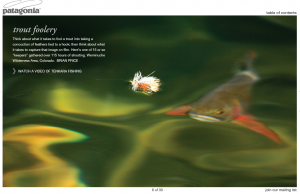 Importantly, Patagoinia does a terrific job using imagery to connect the outdoor experience to their product superiority. Images like the following make a strong claim for category ownership.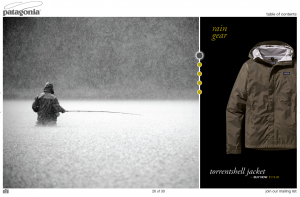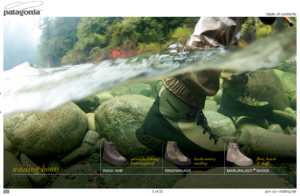 REI and Patagonia both use imagery well to promote their environmentalism. REI stays with their focus on their people and uses imagery to represent volunteerism and eco-sensitivity. Patagonia embraces the Earth's waters as their relevant connection to the environment. As well, being product-centric, Patagonia has a micro site called the Footprint Chronicles devoted to illustrating a product's journey from design to delivery and the resultant environmental impact. This is a particularly engaging and innovative approach to marrying product and cause, and it is executed with admirable transparency in instances where their products do harm.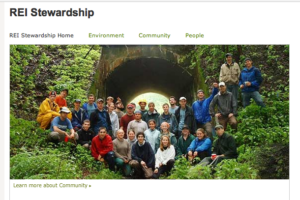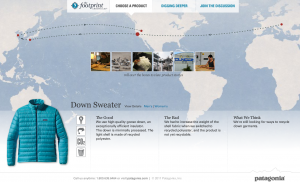 Brand building imagery is more of a challenge in the B2B world. ADP provides a good example of a great website with imagery that is merely decorative without furthering the brand. This site is strong on the web brand building categories not under discussion in this post – content, usability and information architecture. If they had incorporated a true brand imagery strategy rather than the good, but cliche images chosen, we could hold it up as a paragon of a B2B brand site.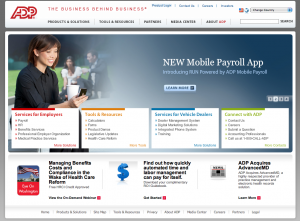 The B2B space is chock full of great companies and great website content if you can disregard the imagery. The trend across all categories, but especially true for B2B users, is a desire to get information quickly. Users thwarted in their attempt may abandon and be left with a poor experience. Imagery should help them along their path to understanding or you've just got pretty pictures taking up space. Pretty might win awards, but it doesn't help the B2B user. It is surprisingly (or maybe not so surprisingly) difficult to point to a B2B site with ownable and differentiating brand imagery. I end up appreciating sites that don't force it, but use imagery in a supporting role. For instance, 37 Signals, the hot company responsible for the Basecamp project management application, Uses their illustrated logo in a central position with illustrated icons representing product features branching off it. It's simple, uses white space elegantly and is on-brand. The Our Customers tab brings you to the page where they use photographic imagery. The snapshot quality of the imagery feels authentic and effectively portrays a product that is the right choice for small businesses.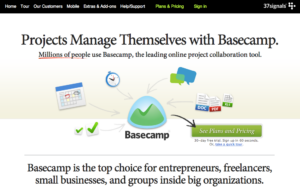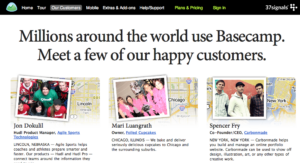 If any readers would like to point out great B2B use of imagery, I'd love to see it. However, I don't think that the paucity of examples is permanent. As the economy picks up momentum, I believe we will see more website and imagery innovation coming from the B2B space. The recent lean years have likely had a limiting effect as organizations tightened their belts to ride it out. Going forward, users ever-increasing demand for speed and usability will effect imagery strategies, as will increased reliance on mobile devices. Today's winning strategies may become tomorrow's dinosaurs.